1:00 AM is the second hour of Wick.
Introduction
Transcript:
1:00
am
Archives reveal old pioneer site within woods. Homestead burned down in 1924. Family listed as dead but children's bodies never located.
Field officer interviews local resident.
News archive (3) and Photograph (4) entered into evidence.
Duncan: Private property? Wait, someone actually lives up there? What are they, like, a thousand years old? Here's two bucks for a new padlock. Can I go now?
Enemies
Tips
Lillian will spawn in front when attacking, so run as far away as possible and do not look at her. If escaping her provides difficult, she will teleport into view again. After two or three more spawns, she will usually cease her attack, or after the player has left her proximity.
When the crescendo event's music picks up, turn the opposite direction intended to go. Lillian will always materialize in the line of sight during a crescendo event, so once she appears it will be easier to run back towards the original destination without being veered off the path.
Exclusive to this hour:
Collection B: Find all collectibles for 1:00 AM: the rabbit skull, leg brace, and cross.
Second Hour: Complete 1:00 AM.
Possible to complete, but not exclusive:
Schooled!: Encounter Tim on the bus.
The Rock of "Nope": Encounter Lillian at the rock.
Matchstick Man: Complete an hour without using candles.
Lights On: Complete an hour without darkness.
Tasks that are part of an achievement:
We're Gonna Need A Bigger Fridge: Collect Lillian's drawing.
Last Year...: Find TBubber's Journal.
Reveal The Truth: Unlock 5:00 AM by collecting all items.
Collectible Items
Transcript:
Sounds of the rabbit squealing before it's skull is crushed with a cracking noise.
In-Game Description: Remains of a small rabbit. Skull appears cracked and badly damaged.
Main Location: On the Rock.
Details:
No Way Out
Spawns on third grave. Activates Lillian once picked up. Place in Main Location.

Transcript:
Lillian: Ring around the rosie. Pocket full of posie. Ashes ashes... we all fall dead.
In-Game Description: Infant size metal leg brace similar to those used to treat children with polio in the early to mid 1900s.
Main Location: Under the bridge.
Details:
No Way Out
Spawns on second grave. Activates Tom once picked up. Place in main location.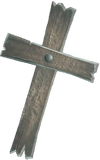 Transcript:
(Ambient forest sounds as someone is walking)
Benny: And now I will lay me down to sleep. Pray the Lord my soul to keep. If I die before I wake, pray the Lord my soul to take.
In-Game Description: Crudely made church cross.
Main Location: Propped against the Water Tower.
Details:
No Way Out
Spawns on fourth grave. Activates Benny once picked up. Place in main location.
v • e TBubber and Dunk's Journal

Transcript:
(voice message beep)
TBubber: Dude, if this shit's true, and we found out it's real, then our channel is going to blow up! That can finally be our ticket out of this shithole.
In-Game Description: Heavily used spiral bound journal entitled WICK.
Inset reads: All WICK theories are the soul property of Travis and Duncan *playwick.com*. BEWARE! If you found this book, we are prolly dead. And you will be soon too! WHAAAAT?!
(Adjacent page features some sort of map.)
Main Location: Leaning against the last gravestone in the graveyard.
Details:
No Way Out
Kept in Counselor's Cabin.
Unlocked Items

Audio Transcript:
Radio Announcer: 19 days after the tragic fire that killed a local man and his wife, police have officially called off the search for their missing children. The church plans to continue its vigil in the hopes of a safe return for all.
Image Transcript:
FIRE DESTROYS HOMESTEAD
Thursday, June 6th, 1924
Children missing, feared dead
By Don Jeffries
Morning Post Reporter
Early Tuesday morning, Mr. Robert Edwards reported thick smoke rising on Mount Todd. Fire service responded as quickly as possible to a tragic scene, discovering the Weaver family homestead engulfed in flame.
According to Fire Chief Pat Robins, the conflagration quickly consumed the old wooden structure. It is believed the family of 5 was asleep when the blaze started. The cause has yet to be determined. At present, two adult bodies have been identified as Lt. John Weaver and his wife Mary. The couple's three children Benjamin (14), Caleb (9), and Lillian (5) are missing.
Due to winter conditions on the mountain, the search for survivors has been slow and arduous. Pastor James McAlroy of Our Lady of Mercy Church, a close family friend, is working with police to determine the children's possible whereabouts. Detective Stan Fielding has not ruled out foul play, possibly kidnapping.
The Weavers were not well known to locals due to their remote location but the children were frequent churchgoers with their mother. Eldest son, Benjamin Weaver, noted for his piety, attended the popular Pine Creek Summer Camp each year. Young Caleb is a rising athletics student, winning four track events at the spring competition in Fairfield. Little Lillian is described by churchgoers as "lively", "precocious" and "mischievous". Their Father, Lt. John Weaver served briefly in Ypres, returning in February 1918 with the Silver War Badge.
He had not been seen outside the family home since his return and rumors suggest he was heavily disfigured in battle.
The local parish has established a candlelight vigil for anyone who would like to offer prayers or donations. Blankets, food, and candles are being collected in the hope the newly orphaned children are to be found alive.
How To Unlock:
Wick
Unlock 1:00 AM by completing Midnight.

Audio Transcript:
Old Man Edwards: Of course I know all the old stories. My uncle said that fire was no accident. Knew the family...went to camp with that boy, Benny. Always preaching about twin brothers stolen in their sleep by the devil. Sure they was coming back for him...touched by God as Mama always said. But what's that got to do with you waking me up at this God forsaken hour? 'Cause some little shit's busted up my fence again?
How To Unlock:
Wick
Unlock 1:00 AM by completing Midnight.