"LOOK AWAY."
This article contains spoilers. Read at your own risk.
Duncan is first introduced as one of Sam's friends in Wick. His background and relation to the legends of Wick is explored further in the DLC No Way Out.
History
Duncan is one of the friends that brings Sam into the forest at Midnight to play Wick. In the opening audio, Duncan is shown to be very knowledgeable about the Weaver's past. They leave Sam in the forest blindfolded with nothing but matches and tell him they will be back at 6:00 AM.
Through the audio attached to various evidence received in gameplay, information on what Sam's friends are up to while he is playing Wick is revealed. They seem to be getting interrogated by the police in relation to Sam's disappearance. In these audio snippets, Duncan comes off as smug. For instance, in the opening for 1:00 AM, he obnoxiously questions whether the property owner has to be thousands of years old to live near the old Weaver place.
In the audio snippet that comes with the Missing Person Report, Duncan seems to be questioned about the missing person Travis Burton. He says he was friends with him up until junior high, when Travis became obsessed with a website. He scoffs at the interviewer insinuating that playing Wick had something to do with his disappearance. He says Travis ran away with an internet girlfriend.
In the alternate ending, in which obtaining all the collectible items is neglected, Sam is found alive and the friends are charged with Wrongful Endangerment and Hoax. Duncan is annoyed that Friend 4 called the police, and berated the other for coming along. He tells them it's all just a game, despite Sam being hospitalized, and asks who wants to go next.
In No Way Out, it is revealed that Duncan had been friends with Travis Burton, or TBubber, and had been studying the Wick legend for many months in 2014 together. They ran a website titled "playwick.com" and shared a YouTube channel where they posted their paranormal findings and theories. They kept track of their thoughts in a journal.
When Travis supposedly cut ties with Duncan and took credit for all their findings, Duncan was furious and had threatened to tell their fans about what Travis had done. He left a very angry voice message on the phone, and Travis responded by telling Duncan to meet him at the gate at 6:00 AM. Travis claimed that he knew how to make things right. The fallout of this meeting, if there is any at all, is unknown.
Knowing that he was friends with TBubber, that they ran the website together, and that he is more than familiar with the Wick legend makes his testimony to the police very suspicious.
Related Findings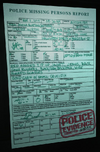 Audio Transcript:
Duncan: Sure I knew him. So what? We haven't hung out since junior high when he joined some website and stopped caring about real life. Playing Wick? That's your theory? He probably ran away with his Internet girlfriend after he got tired of everyone else calling him a freak.
Image Transcript:
See this item's page for the full details.
How To Unlock:

Audio Transcript:
Duncan: She said what!? I have no idea what this shit is. Isn't that your job? Fuck you.
(sound of a crash and the tape ending)
(squealing tape/radio sound)
Duncan: (distorted voice) You're too late anyways. There's no way out.
How To Unlock: