"
Private property? Wait, someone actually lives up there? What are they, like, a thousand years old?
"

– Duncan referring to Old Man Edwards in the audio preceding 1:00 AM
Old Man Edwards is a local resident who lived during the time of the Weavers. It is suggested that he owns or lives near the Weaver property in the present day.
History
Old Man Edwards was the nephew of Robert Edwards, the man who reported the fire that burned down the Weaver household. 
In April of 2014, Old Man Edwards is interviewed by Travis Burton, and part of their conversation was recorded and can be found on page 17 of the journal. He explains that when Our Lady of Mercy Church burned down, nothing around the church was found burned and that Pastor James McAlroy disappeared. Edwards ends the explanation saying "Papa said a sinner gets a visit from the devil himself."
Travis further asks if Edwards believes the stories and mentions the children that went missing from Pine Creek Summer Camp. This strongly angers Edwards and the interview ends.
On page 21 of the journal, there is a newspaper clipping from an article about Edwards' uncle being sentenced for murdering two innocent girls and their remains never being found.
An audio clip of Edwards speaking in No Way Out is accompanied by the milk glass which is unlocked by encountering Mary Weaver's ghost. He discusses rumours he had heard about Mary; how she had so many children but paid more attention to the church.
In the main campaign of Wick, Old Man Edwards is interviewed again by the police in relation to the disappearance of Sam. In the sound bit unlocked along with the Photograph evidence, Edwards talks about his uncle having suspicions about the fire. He also talks about going to camp with Benny.
Findings

Audio Transcript:
Old Man Edwards: Of course I know all the old stories. My uncle said that fire was no accident. Knew the family...went to camp with that boy, Benny. Always preaching about twin brothers stolen in their sleep by the devil. Sure they was coming back for him...touched by God as Mama always said. But what's that got to do with you waking me up at this God forsaken hour? 'Cause some little shit's busted up my fence again?
How To Unlock:
v • e Mary Weaver's Glass Bottle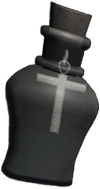 Audio Transcript:
(night insects chirping)
Old Man Edwards: The way I heard it, she had all those kids, but she never spoke to one of them. Had more love for that church than anything. Was there every Sunday like clockwork. Then she'd be in her window every night with a candle burning, rocking back and forth and praying for something.
In-Game Description: Milk glass engraved with the sign of a holy cross.
How To Unlock:
No Way Out
Encounter Mary Weaver's ghost near the Homestead as part of the Mother Dearest achievement.

Audio Transcript:
(night insects chirping)
(wood creaking)
Pastor: Mary, you know I care for you, but you've brought the devil to my doorstep. In God's name, cast out these changlings and repent before this evil consumes you.
(wood creaking, footsteps)
Pastor: It is written: A bad tree cannot bear good fruit that which bears thorns and briars shall be rejected is near to cursing whose only end is to be burned!
Image Transcript:
See this item's page for the full details.
How To Unlock:

Audio Transcript:
Lillian: My mother said, I never should, play with g*psies in the wood. If I did, she would say, naughty girl to disobey.
Image Transcript:
See this item's page for the full details.
How To Unlock:
No Way Out
After placing one of Lillian's items: the rabbit skull, honey bunny, or bucket.