"
I don't even like rabbits.
"

– Travis "Tbubber" Burton, No Way Out
The Rabbit Doll is a collectible item in Wick.
v • e Lillian's Rabbit Doll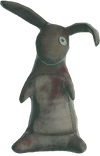 Transcript:
Lillian: I'm coming, Honey Bunny.
In-Game Description: Old child's toy. Appears homemade with many crude repairs. The letter L is monogrammed on the underside.
Main Location: On the Well.
Details:
No Way Out
Spawns on third grave. Activates Lillian once picked up. Place in Main Location.