"LOOK AWAY."
This article contains spoilers. Read at your own risk.
"
Well, well, well...what do we have here?
"

– Travis "Tbubber" Burton, No Way Out
The Well is made of stone and planked off by wood, located to the right of the bridge.
Description
The well is situated to the right of the bridge. It is on the right side of the path, and can be easily missed if there are no light sources. It is covered with wooden planks, and is made of stone.
Collectibles
Events
After approaching the well multiple times, what sounds like a baby crying from the bottom of it can be heard.
The following information contains

spoilers

. To view them, click the [show] tag.
---
If deciding to "investigate" further, a hand that looks extremely similar to the hands seen at the end of 5:00 AM will swat out from inside the well before returning back inside.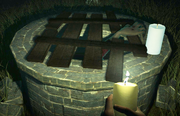 Trivia
Placing three lit candles on the well will earn the achievement Well well well...
Gallery